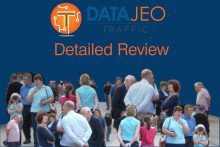 Data Jeo Review 2017 Analysis And Tracking Review and Overview
Marketing Software to generate a complete profile report of potential customers & where to find them. Included with Launch is a Special Bonus for early adopters
Tracking Software for ad results.
Special Launch in May 2017
Ends 31st May

The creator, Walt, describes the software with his usual excitement and enthusiasm and he has a great team of developers.

This software will Revolutionize online advertising - it's called Data Geo. This provides anyone that uses the program with a very detailed look at the audience requirements for advertising online. I provide more information about the Software and Upsells (OTOs) below.

Product Details
Creator: Walt Bayliss

Name: Data JEO
Website: DataJeo.com

My rating of this software is Full marks - Recommended

Pricing Details
Specia Launch Price*:
$297 per year or $37 per month
Optional - One time offers x 2
Advanced Tracking Tool $97.00 - Monitor ad results

Agency License** $497.00 - This allows you to use it for your Clients

*Price will Increase After Launch Week.

**Agency License ONLY Available during Launch Week.

Why Would You Need This?
To advertise effectively, advertising needs to be Targeted to the people who are most likely to buy or a lot of money will be wasted.
Even if you are not advertising, but trying to drive people to your blog or website through social media, a great deal of time and effort would be saved if you were sure that you were being seen by people who are interested in your subject.
You need to concentrate all that effort and money in the right places.
There's no point in sending posts to people in their 20s if you are selling specialist holidays for the over 50s, is there? Ok, one or two might pass it on, but you be much better off targeting the people who Want those holidays! And that is just a small example of targeting. There is a special audience for every subject.
I have spent so much time trying to get my message to the right people and, despite my efforts, have often failed miserably or had a bad return at best. I know how hard it is to get people interested let alone actually visit my sites. I have also bought other software from Walt and have been greatly helped by it - he really knows his stuff.
Extended Demographics
Not Only Facebook
When thinking about audience the immediate thought is about Facebook but it is so much more than that.

Using Data Geo (this software) you will be able to look at the exact age, demographic, location of your ideal audience.
Not only that – You'll be able to see the competition's keywords, what they are using
Even their brand creatives and the ads that they're using.

The software will be able to show the links the Places you should be advertising.
So with one, simple, keyword entered into the system
You'll have a complete profile of the exact audience you are trying to reach.
You'll know what websites they visit
You'll know what countries they're in, how old they are.
You'll know so much about your ideal client.
You'll be able to see their favorite Youtube channels
You'll be able to pick up their Top Twitter channels
So All of your advertising opportunities in One Place.
Facebook Integration
Then of course for Facebook:
You'll be able to define the audiences, their likes and interests – all of that is part of the process as well.
The software is integrated with hundreds of different Data suppliers including Google, including Facebook, bringing in consolidated data providing you with a complete report for everything that your are trying to advertise.
If you are looking to sell more of Anything, it might be Tshirts, it might be kitchen gadgets, it might be software perhaps garden furniture.
It might be anything at all.
As soon as you put that in to the (Data Jeo) System –
You'll have a complete plan of attack of exactly Who your customer is and where to find them.

Imagine the value of that!
You can See Videos Demonstrating the Software on the Sales Page - Here's just one to give you an idea:
Video of the Keyword Element of the software in action...

Cost Effective Advertising
Typically, when you're setting up an ad you try for the first couple of weeks to fine tune it, tweak, to find out what's appealing to your audience or finding your audience, where the audience is.
And that's expensive and time-consuming.

Being able to find out your best cost per clicks,
Being able to maximise the Return On Investment from your ads.
Is expensive to do, but this software eliminates that entire research for you.
With the entry of One keyword or of One Competitive website the software will be able to tell you so much about Your ideal customers and where to find them that you'll be able to take that information out of the software straight into your business or operation – and you'll be able to maximise that.

If you want Affiliates, it'll show you where to find them
If you want Customers, it'll have them in lists and bags for you

This software (DataGeo) Is a complete data analysis program and the creators are making it available at an incredibly low launch special pricing.

With this launch they are including an amazing Bonus which is their tracking system, being able to deliver Real Time Results on the effectiveness of your ads.

So not only will they show you where to find your customers and How to find your customers, you will be able to track the results to make sure they are spot on.
The Doors Will be Open to Get This At The Discounted Price
From 1st May 2017 to 31st May

Enter your email here to get a Reminder
And to lock in my Bonuses
I will also send you a FREE report on Using Pinterest​ Immediately

More About the Upsells or OTO's
The main software is useful for anyone trying to bring targeted traffic, but if you are just starting out
the extras might not be for you.
Both are Discounted one-time fees that will save you money. They will cost more after the launch.

Upsell 1 - $97
The first is the Advanced Tracking Tool which gives you the ability to monitor the results of your adverts. You will know which of your ads are doing well and which are a flop by seeing exactly where visitors have clicked on your page the most. This is Very valuable information that could save you money, but if you don't have very many ads you might feel you can stay on top of that without it.
Although it is highly recommended and a One-time fee you should consider whether you want that immediately.

Upsell 2 - $497

Agency Licence is only available DURING THE LAUNCH

The second is the Agency Licence. This allows you to use the software for your own clients, which could give you an ongoing source of income. You don't need this if you only run ads for your own websites.

Heatmap showing visitor clicks
Videos Demonstrating the Software Can Be Seen On The Webinar Replay
On the Sales Page, You will be encouraged to take the Yearly option, because that is a good deal. However you will also have the option to choose a Monthly plan.
That would be a good way to try it out without a long term commitment.
It can be stopped at any time.

In a Hurry?  Don't Miss out on the Early-Bird Price...
Save
Save